Parenting
Parenting is difficult but very vital work. Unfortunately, your parenting work is almost invisible in the eyes of the world and our culture is not set up to support parents so that we can give our children what they need. Furthermore your parenting is subject to criticism both from people who know you and from random passerby and as parents we face a lot of challenges that come from within
Parenting Support
I'm studying to become an Aware Parenting instructor and I weave that experience into my Feminine Embodiment Coaching Sessions which I offer online. 
If you would like to know more about this offer please contact me at info@teranidhan.com (in Swedish, English or Spanish)
Aware Parenting
Aware parenting is probably more likely to resonate with you if you've done any personal development, therapy or counseling, because it's all about emotional development. Aware parenting is different in many ways to mainstream beliefs about human beings, babies, children and parents.
1) It's a form of Attachment Parenting: supporting the development of a strong healthy attachment between parents and children with prompt response to crying and that NO CHILD AT ANY AGE SHOULD BE LEFT ALONE TO CRY
2) Non-punitive discipline: so instead of trying to change superficial behaviors we look BENEATH THE SURFACE in order to attend children's UNDERLYING NEEDS AND FEELINGS.
3) Helping children heal from stress and trauma: We can help children heal by recognizing and FACILITATING THEIR NATURAL STRESS RELEASE MECHANISM. Children know how to heal from stress and trauma if we don't stop them. These natural stress release mechanisms include:
Play
Laughter
Crying
All in the context of a loving parent child relationship
So Aware Parenting is all about empathy and respectful listening of children's emotions. It's about the importance for us to mirror the feelings of babies and children, so that they can STAY CONNECTED WITH THE FULL RANGE OF THEIR FEELINGS In Aware Parenting we remind ourselves that our children's natural state is CONNECTED, COOPERATIVE AND COMPASSIONATE.
And that right from birth, babies can heal from daily stresses, as well as any trauma, through expressing their feelings WITH LOVING SUPPORT. We ALL have a natural healing mechanism RIGHT FROM BIRTH and it's NEVER TOO LATE to start listening to the feelings of your baby or child
I am still learning about this – and finding that it is just as relevant for us parents and our own inner journey of development, as it is for babies and children. For us parents to be able to support our children in this way IT IS NECESSARY THAT WE RECEIVE THE SAME SUPPORT AND THAT WE HOLD OURSELVES WITH SELF-LOVE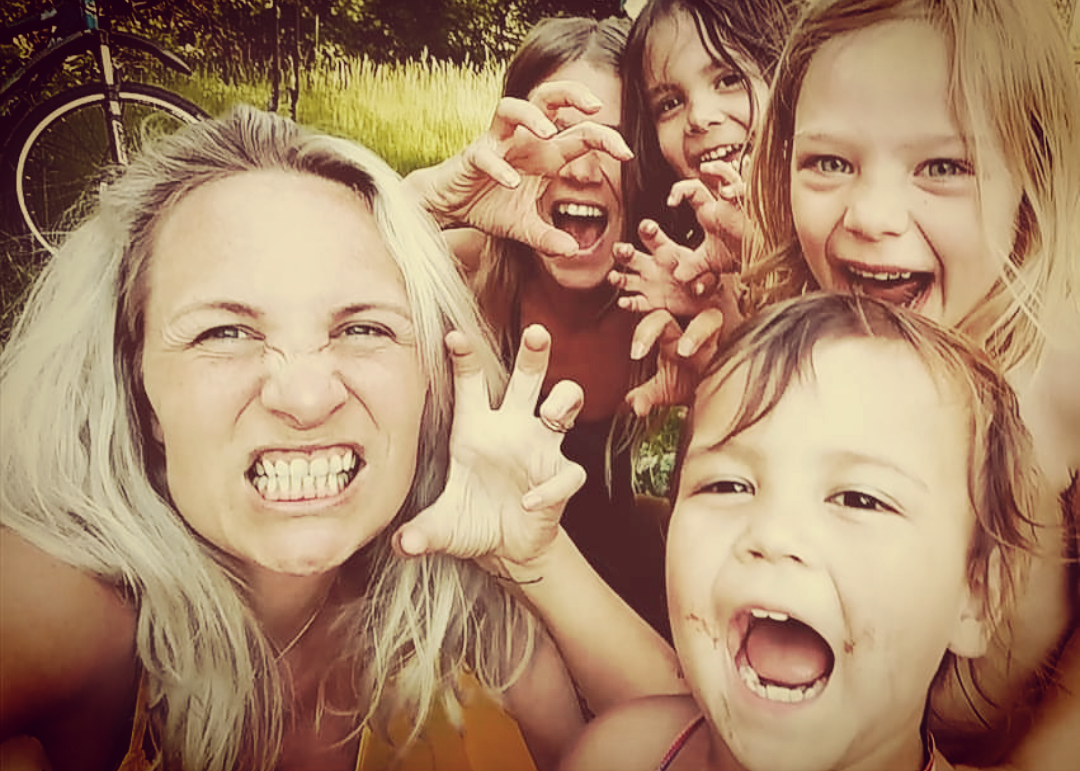 MY PARENTING CIRCLES
"ACTIVISM IS THE SOUND OF LOVE WHEN IT ROARS"
OUR CULTURE IS NOT SET UP TO SUPPORT PARENTS so that we can give our children what they really need to FLOURISH
And in order to "succeed" in the culture we're living we have to drive our bodies so hard it can become necessary to disconnect from it to keep up and THEN HOW THE HELL COULD WE REALLY OFFER ENOUGH CONNECTION to our children?
My intention is not to BLAME OUR CULTURE but I am also NOT WILLING TO LET IT STAND IN THE WAY OF ME AND MY CHILDREN LIVING OUR LIFE AS TRUE EXPRESSIONS OF WHO WE REALLY ARE – CONNECTED TO OUR EMBODIED TRUTH
So let's remember that every obstacle and challenge is an invitation to UNTAGLE THE PRESENT FROM THE PAST. Anything uncomfortable that shows up in the present moment does so so that we can give it LOVE AND COMPASSION
That way we can release what needs to be released from our personal and collective past SO THAT WE CAN LIVE MORE IN THE PRESENT MOMENT
It's in the present moment that we PLUG INTO OUR POWER and into the very CURRENT OF LIFE. It is in the present moment where LOVE is allowed to be the FIRE and FORCE that wants to keep LIVING AND EVOLVING
As parets, if we let that enormous force animate us we can CREATE CULTURAL CHANGE by representing CONNECTION and COMPASSION
TOGETHER we can face every challenge in parenthood and remember that they are really our united soul's CALLING TOWARDS WHO WE REALLY ARE
I'M WILLING TO STAY DEEPLY CONNECTED TO WHO I AM AND TO MY CHILDREN SO THAT THEY CAN STAY CONNECTED TO THEIR TRUE SELVES and so that that INNATE WISDOM AND LIFE FORCE CAN GUIDE THEIR WAY ON
When I'm AUTHENTIC, connected to my BODY AND RELATING IN TRUTH, that's when I can SEE THEM AND MIRROR THEIR TRUE SELVES MORE ACCURATELY
"At first I was hesitant to attending Titti's parenting circle. I was afraid it would be just another parenting course that tell you what you do wrong and leaves you feeling like the worst parent ever, but I was drawn to it and went on the first circle meeting. For some time I had felt a growing need of venting with likeminded people, who share a similar view of how we wish to live compassionate lives with our children. The parenting circle was all this and more! 
Titti has a fantastic way of making you feel welcome, accepted and seen. New ideas and shifts was evoked, without a feeling of being judged. I left the Parenting Circle with a warm fuzzy feeling, a full heart and a smile on my face. I have been able to remind myself to respond more compassionately to myself, my partner and children since and I'm looking forward to learn more about Aware Parenting and build an emotional support system with the other participants."
Firstly I want to thank you for holding the space. I felt welcome and accepted, and it was great to know that my baby boy Leander was also welcomed to be as he is. 
It all felt very natural, the way the whole
evening was flowing softly and how we were continuously brought back to our bodies through you reminding us to breathe. 
Breathing consciously is such a simple yet powerful way to be connected with
ourselves. I think that since the event I've noticed my breath a bit more than usual and also allowed myself to rest more when I really
need to.
To me, the whole event had a therapeutic feeling to it – I mean the way that everyone just got to be met as they are and share what's
currently hard for them, and just be heard and supported. 
A theme that got stirred in me is how both parenting and self-development are always a process. Everyone who is on that journey has some obstacles from time to time. There's no perfect point to reach and no-one is ever completely ready or perfect (as a parent or a person). 
I've had quite a loud perfectionist self-critic living in my thoughts for a while.. and the event reminded me that the key to handling everything can be just as simple as acceptance (haha, which is not always so simple either, but at least it's good to keep being reminded of that ;)"
Im so so happy that I came today. I felt so calm and safe during the whole time and  it is unusual for me in circles, especially the first time. I expressed what I wanted and felt happy, seen and heard. I also noticed a lot in my body 
With LOVE
Titti
© 2023 Titti Paulina Pauler Reenstierna. 
All rights reserved